Fri, 02/28/2020 - 15:08
"Talent crisis." This dilemma has plagued the insurance industry for years as waves of retirees exit the business with too few skilled workers to replace them.
According to the Pew Research Center, nearly 10,000 baby boomers retire each day in the U.S., and about 25% of them leave positions in the insurance and financial services sector. This has created an intense need for insurance companies to bridge the talent gap, with an estimated 400,000 positions expected to open up this year alone, according to the report, "The Future of Insurance: Bye-Bye Baby Boomers, Hello Digital Natives," from Applied Systems and InVEST.
Although the talent gap continues to test the resilience of the industry, educational programs are making entry into insurance more accessible than ever. For career-seekers — and university students — the insurance field is awash in potential.
Industry exposure is key
The insurance industry's Achilles heel among students has long been a lack of awareness. Data shows familiarity of the industry has increased 56% among Gen Zers within the past four years, but majoring in risk management and insurance (RMI) isn't a natural choice for many incoming university students. Introducing young professionals to the benefits and possibilities behind an insurance career is now a strategic necessity for the industry.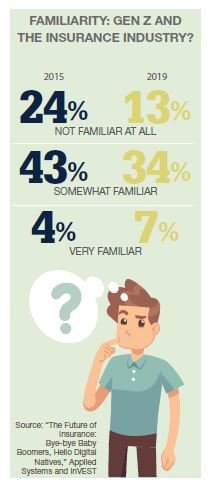 "We have to be intentional about reaching students," says Alyssa Bouchard, director of education and programming at Gamma Iota Sigma (GIS), the industry's collegiate talent society with more than 5,000 student members.
"Word of mouth is an important way to get that message to students," Bouchard continues. "It's really about relationships because they can hear about the career of an underwriter, but until they need an underwriter, they don't understand what goes into that job, why an underwriter might love their job, and why that could make an amazing career path for them."
To reach students across North America, GIS's One Campus at a Time program engages the industry year-round to help expand and diversify the talent pipeline. One part of the initiative is Boots on the Ground Month every October. In partnership with the Insurance Careers Movement, GIS calls on industry professionals to get onto campuses and share their stories with students who otherwise might not be aware of careers in insurance.
"Students don't know they want to go into insurance until they have met insurance professionals who are talking about how much they love the industry," Bouchard notes.
In an annual survey of students and recent graduates, GIS found that in 2019, 41% of students changed their original path, function or industry segment due to exposure through an internship, campus speaker, faculty or GIS event. Also, the 2019 Student Recruiting Survey reported 52% of students stated learning about different industry segments through on-campus speakers, conferences and internships influenced their ultimate career choice.
College curriculum counts
The insurance industry has gone through significant changes in the last decade. How have related educational programs evolved in response?
To start, an increasing number of colleges now have risk management, insurance and actuarial science programs, says Bouchard. She's also seen more campuses add risk- and insurance-related coursework.
"Our profession is changing on a very regular basis, and we, as risk managers, need to evolve," says Gloria Brosius, ex officio of the RIMS board and director of risk management and insurance at Pinnacle Agriculture Distribution. "Curriculum needs to evolve as well."
Cassandra Cole is department chair and Dr. William T. Hold professor in risk management and insurance at Florida State University (FSU). She says data and analytics are more present in the insurance curriculum now.
"In a number of our undergraduate and graduate classes, projects involve some type of analysis," says Cole, who is also director of FSU's Master of Science in risk management and insurance program. "In addition, we now have an insurance data analytics course in both programs."
FSU encourages students to study insurance alongside related topics. Courses such as "Legal Aspects of Insurance," "Life and Health Insurance Products," and "Property and Casualty Insurance Operations" teach students how risk impacts business and society.
Elsewhere, Mercyhurst University's risk management program was established almost two years ago. It also is structured to expose students to emerging industry trends, says Gary Sullivan, assistant professor of risk management at the Erie, Penn.-based institution. The program's curriculum focuses on critical elements needed in an RMI career, such as analytical and project management skills, communication abilities, and understanding insurance laws and regulations. It also provides courses on in-demand insurance specialties. "We've changed the curriculum to where we're offering cybersecurity courses blended with our risk management courses," Sullivan shares. "We've done that because of the growth taking place as far as business opportunities in cyber."
Fostering students' educational footing with real-world experience also is an approach universities are taking to better prepare them for their future careers. In spring 2019, Mercyhurst's risk management students worked on a cybersecurity project for an insurance carrier. The carrier later implemented some student recommendations.
Additionally, new tools are being introduced in the classroom to provide practical experience. "We are going to use a risk management software tool to give students some firsthand loss control experience" that will allow them to adjust claims in mock scenarios, Sullivan says.
Beyond knowledge of the industry, students also need tools and resources to develop professionally and pursue RMI careers successfully. "We offer a variety of programs to our students within and outside the classroom to support students, help them develop professionally, expose them to current industry trends and topics of interest, and provide information on the variety of careers available" in insurance, Cole says. "These include guest speakers and events, support for work toward designations, scholarships, travel to industry conferences, involvement in case competitions and challenges, and several recruiting activities. We also have a chapter of Gamma Iota Sigma, which creates a wider community for our students and gives them access to additional educational opportunities and career placement services."
In response to industry skill needs, FSU has created a required course on the concept of risk for all business students to take. The class has proven effective in increasing enrollment in the RMI program.
"Getting the word out about careers in risk management and insurance can be a challenge," Cole explains. "Since creating a course required of all business students that introduces the concept of risk and its implications for individuals, businesses and society, we have experienced significant growth in risk management and insurance majors. While the course focuses more on concepts like the risk-reward trade-off and the implications of risk, students do receive some exposure to risk management and insurance careers, and this seems to spark an interest in a number of them."
It's clear that many schools are mindful of how they compose their RMI programs to effectively support students.
But how do students feel?
Jack Cohen is a risk management and insurance student at the University of South Carolina's Moore School of Business. He admits that although he didn't know what to expect when selecting RMI as a major, he's now excited to start a career in the industry following his graduation this spring.
"Overall, I benefited immensely from the risk management and insurance program at the Moore School of Business — not only as a young professional but also as a person," Cohen says. "I thoroughly enjoy learning about something that is constantly relevant in peoples' lives… My professors encouraged me to pursue various types of insurance as well as consider the even more encompassing risk management aspect of business and government."
Cohen believes the program could benefit from a greater balance in course offerings, with insurance courses currently outweighing those in risk management. He nonetheless feels it prepared him for his future career.
But majoring in risk management and insurance isn't the only way into the industry. Increasingly, students realize that an insurance career can fit their unique backgrounds without needing a traditional RMI education. "Our fastest-growing segment of GIS, about 27%, are students who represent other majors, such as economics, marketing or data analytics," Bouchard notes.
"As an industry," she continues, "we have to be intentional about reaching students of all majors who are not aware of the industry. And [our membership] shows that students of all majors are learning about the industry and committing to it."
Companies have taken notice of the way insurance career interest has spread across various fields of study. Progressive Insurance, for example, has a dedicated recruiting team with a unique focus.
"We have a college recruiting program that focuses on analytical IT and accounting students, specifically," explains Erin Hendrick, talent brand marketing manager at the national insurer. "The team comprises recruiting representatives and representatives from the business areas within Progressive, who identify and select which schools to spend time at. Those teams are spending time with professors on curriculum and with students in the classroom, as well as bringing students on-site to get a look at what it's like to work at Progressive."
Hendrick continues: "The goal is to get students on-site for internship opportunities that hopefully result in full-time jobs for the talent."
Other areas of the industry also are looking for ways to diversify the overall talent pool. Spencer Foundation, an organization dedicated to funding the education of future risk management and insurance leaders, welcomed its first-ever executive director, Megan Miller, in September 2019. Miller was a Spencer Scholar who received a scholarship for a part-time master's program. She now focuses on diversifying the foundation's grant recipient pool beyond just RMI and business students.
Some of Spencer's scholarships do require applicants to be enrolled as RMI majors, but Miller sees potential for that to change in the future. "For example, FM Global does a lot with risk engineering, and they would love to see more engineering students come into the industry," she explains. "Expanding our scholarships so that they're appropriate for engineering students and not just business students is something that we're all thinking about."
From school to work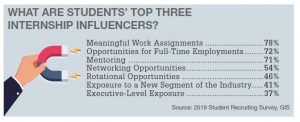 Generating interest in RMI careers is only part of the battle. Getting talent through the door is also a hurdle for companies as competition heats up. Some companies, however, may be leaving talent at the door by failing to invest in programs designed to foster the careers of current students and recent graduates.
According to GIS's 2019 Student Recruiting Survey, 58% of seniors and recent grads reported having either zero or one internship experience, which highlights the need for more internship opportunities.
Students are in a unique position compared to career professionals as they are making decisions that alter the direction of their careers. Students view internships as a "test-drive" for the job and a chance to put classroom lessons to use. Internships also offer experience in new segments of the industry and different areas within a company, which allows students to consider the site for post-graduation employment, even if the work during the internship is not exactly the right fit, states the report.
"As employers, we like to think 'having an intern would be great,' but how do we go about doing it?" Brosius asks. "RIMS has created this roadmap for risk professionals to design a valuable internship program — valuable for both the student and the employer. The manual contains a worksheet for employers on designing the program and defining intern responsibilities so that they're not just doing busy work but are truly getting into the nuts and bolts of the profession."
The "nuts and bolts" of the job is where students want to be. Consider that 78% of respondents to the 2019 Student Recruiting survey marked "meaningful work assignments" as their top influencer.
Beyond the degree
As the cost of college tuition rises, high school graduates may face the decision of whether to pursue higher education or jump straight into the workforce. These individuals represent a distinct demographic for insurance companies to reach — with the support of the federal government.
In 2016, when the U.S. government launched a nationwide campaign to grow apprenticeships, Zurich created a first-of-its-kind insurance apprentice program open to recent high school graduates, armed forces veterans and other non-traditional students. Since it began, the program became the first professional insurance apprenticeship certified by the U.S. Department of Labor. Zurich shares its recipe for success with other insurers to foster similar opportunities.
"Innovation thrives on diverse perspectives," says Al Crook, head of HR business partners for Zurich North America. "So we wanted to improve access to insurance careers for people with a high degree of initiative, adaptability and personal responsibility — even if their circumstances put a four-year degree out of their reach."
Dane Lyons is a Navy veteran and a 2018 apprenticeship graduate. Now a Zurich underwriting services specialist, he says the program gave him exposure to an industry he would never have explored otherwise. "The program has people coming out of high school, people who are transitioning military, people changing careers in different parts of their life. I share my experiences with the younger folks, and the younger folks share their experiences with me," says Lyons, who is now an apprentice alumni adviser. "Those exchanges fuel problem-solving and success."
Offering a mix of college classes and on-the-job learning, apprentices attend classes two days a week at a local community college and work at Zurich three days a week, rotating through different areas while earning a salary and benefits, Crook explains. Upon completion of the program, apprentices earn an associate's degree in applied science in business administration with a concentration in insurance. Plus, they are promoted up a level. After one year in that position, they are eligible to apply for other jobs at Zurich.
Recently, the company introduced a cybersecurity concentration to meet business needs and market demands. While this track is designed differently from the general insurance apprenticeship, it's an example of how a multitude of fields can fit an apprenticeship model, Crook believes.
Crook — and Zurich — see the benefits of developing apprenticeship programs that provide non-traditional means of launching an insurance career; programs that are accessible to individuals who want to be students of the trade without the financial burden or commitment of enrolling in a fulltime college program.
"Apprenticeships have proven to be a powerful tool that can help both individuals and businesses reach their full potential, contributing to the strength and sustainability of the U.S. workforce," Crook concludes.
Changing perceptions
According to industry insiders, students are increasingly excited about pursuing RMI careers — perhaps for the first time in history.
The insurance industry is situated to truly foster a new wave of insurance professionals and grow business, but it takes long-term dedication to see long-term results.
With the support of contemporary university curriculum and carefully curated career opportunities, insurance companies can rise above the talent crisis once and for all.
---
---
Comments (0)